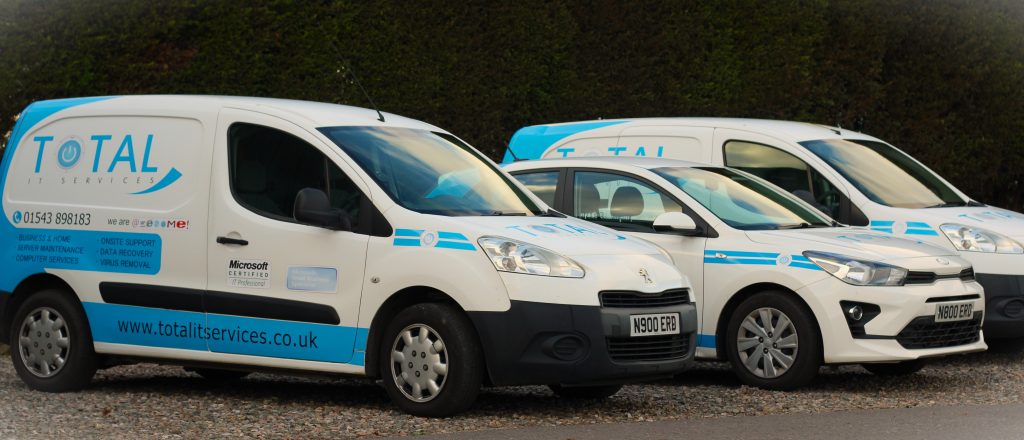 Business and Home IT Support Services For Cannock – With Free, no obligation IT Audits

Same Day Call Outs – Call us now on 01543 898183
Are you experiencing technical issues with your computers, Microsoft servers, or network in Cannock, Staffordshire? Look no further! We are your trusted local experts, offering prompt and professional IT support services tailored to your business needs. Our team of experienced and qualified engineers is dedicated to resolving your computer-related challenges efficiently.
Comprehensive IT Services in Cannock
At our conveniently located Cannock base, we are equipped to address a wide range of technical issues, including:
Computer Repairs: Whether it's a malfunctioning PC or laptop, our experts can swiftly diagnose and repair the issue, getting you back to work in no time.

Microsoft Server Maintenance: We specialise in maintaining Microsoft Windows Server systems, ensuring they run smoothly and securely.

Network and Email Troubleshooting: If you encounter network or email problems, we're here to diagnose and resolve them promptly.

Laptop Screen Replacement: Accidentally damaged your laptop screen? We can replace it for you.

Data Recovery: Lost critical data? Our data recovery services can help retrieve your valuable information.
Same-Day Support in Cannock
Our proximity to Cannock allows us to offer same-day callouts for urgent computer, network, or server issues. Whether you're dealing with email disruptions, printing problems, or data recovery needs, our team is ready to provide swift assistance.
Embracing Modern Operating Systems
While we understand the importance of retaining older Windows versions for compatibility reasons, we also recognise the benefits of modern operating systems. We can guide your business through the transition to a more up-to-date Windows version, ensuring a seamless and secure migration.
Supporting Home Users and Remote Workers
Although our primary focus is business IT support in Cannock, we extend our services to home users and remote workers. Whether you're working from home or need help with your personal PC or laptop, our friendly team is here to assist you.
Emergency IT Support
For critical issues, we offer rapid-response IT support services. We can typically arrive at your business or home within an hour or two for emergencies. Additionally, we provide out-of-hours IT support; please contact us for more information.
Expertise in Microsoft Servers
Our expertise extends to Microsoft Servers, including:
Microsoft Small Business Server 2008, 2011, and 2011r2
Server Standard 2012, 2016, 2019 and 2022
Microsoft 365 Email and Microsoft Exchange Servers
File Servers
We are well-versed in managing, maintaining, and troubleshooting these server systems.
Cloud Solutions and Virtualisation
Looking to migrate your email systems to the cloud, such as Microsoft 365 or Gmail? We have the expertise to facilitate the transition seamlessly. Moreover, we work with virtualisation technologies like VMware, Virtual Box, and Hyper-V to create and support virtual servers tailored to your requirements.
Wide Range of Support Services
Our support contracts and on-demand services cover various Microsoft PC operating systems, including (yes we still look after older versions of Windows if your business still requires them) Windows, XP, Vista, Windows 7/8/10 and Windows 11. We can assist with ADSL/VDSL and Leased lines or BT Infinity broadband internet problems, equipment installations (e.g., broadband routers, wireless access points, firewalls, and VPNs), virus removal, computer and server data recovery, and offsite backup solutions.
Contact Us for Reliable IT Support in Cannock
For all your IT support needs in Cannock, Staffordshire, reach out to us today at 01543 898183. We are committed to delivering efficient, cost-effective, and reliable IT solutions to help your business thrive. Trust Cannock's local experts for all your technical requirements.
Issues with Computer, Microsoft Server or Network?
Need IT Business computer support in Cannock Staffordshire? We are very pleased to be able to offer you a fast, professional response for all of your Technical needs such as a Computer or Microsoft Server repair, Laptop screen replacement, Microsoft Windows Server maintenance, Network or email problems. We are friendly, experienced and qualified support and repair engineers.
As we are situated so closely to Cannock we are able to offer your company a same day call out to help fix any urgent Computer, Network or Server fault including email or printing problems or even data recovery etc…
We are still an XP friendly IT company – if your business still wants to retain Windows XP,  we completely understand. Some clients have software or hardware that will only work with XP whilst others are unwilling to lose the reliability that Windows XP provides. We can offer sensible, practical, suggestions to help keep XP serviceable for as long as possible. When you are ready to make the change to a later Windows operating system, we can help you with that too. Upgrading PC's needn't be a scary experience if done properly!
Although we are mainly a business to business computer support for Cannock service, we are always more than happy to help with home PC, Laptop faults and to help with remote or Home Workers too.
If you have a critical fault we can normally offer you a same day IT Support and repair service for Cannock and the Staffordshire area. We can normally be at your business or even home within an hour or two of a full on emergency. Out of hours IT support is available too, please call for details. We support and maintain all Microsoft Servers including Microsoft Small Business Server 2003 and 2008 and 2011, Server Standard 2008 and 2012,  Exchange Servers and File Servers. Business computer Support Cannock and Staffordshire.
We are able to assist your business in moving email systems to the cloud – such as Microsoft 365 or Gmail. We also work with VMware, Virtual Box and Hyper V to create and support Virtual Servers.
Our support contracts and ad-hoc support service covers all Microsoft PC operating systems such as Windows, XP, Vista, Windows 7/8 and 10. We Can assist with ADSL or BT Infinity Broadband internet problems and solutions as well as equipment installations including broadband Routers, Wireless access points, Firewalls and VPNs. We also provide Virus removal, Computer and Server Data recovery and offsite Backup Solutions.
Call: 01543 898 183